SECTION VI
DEVELOPING AND IMPLEMENTING LOCAL WELLHEAD PROTECTION (WHP) PLANS
Figure VI-1, the 'WHP Plan Development Flowchart' illustrates the preferred process for preparing and implementing a local WHP plan. The sequence of plan development events, starting from the decision to participate in the program through final approval, as well as the process for periodically updating WHP plans is depicted in the flowchart. Lesser roles of other resources (such as technical and legal consultants, and other governmental agencies) that may be called upon for development of individual plan elements are not shown.

Emphasis on Public Education and Participation:

The importance of involving all sectors of the public during the planning, development and implementation of Wellhead Protection Plans cannot be over emphasized. Examples of WHP planning efforts that have been short-circuited due to lack of public education and involvement up-front and in the early stages of plan development are too numerous to mention. Failure to involve the public in the early stages of planning is often the primary reason that local WHP plans fail to become implemented.

Figure VI-1 illustrates steps within the planning process where public participation is most critical. Appendix B lists numerous organizations that can provide information, assistance and materials to enhance and increase public involvement in WHP planning, development and implementation.

Perhaps one of the most useful tools is the experience gained from other communities that have gone through the WHP planning process and have discovered the delivery mechanisms that have worked best for them. More often than not, a few minutes spent visiting with individuals from these communities can save a great deal of time and frustration, and greatly enhance the ability to develop and implement a WHP plan.
---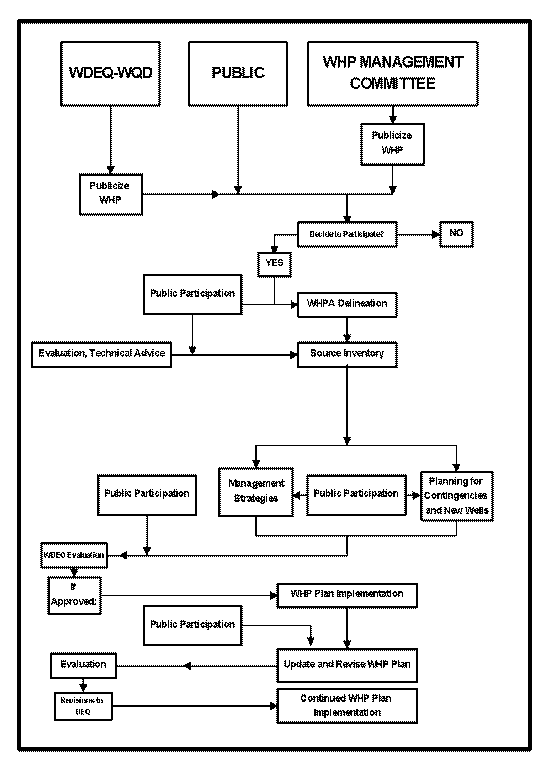 WELLHEAD PROTECTION PLAN DEVELOPMENT FLOW CHART
FIGURE VI-1
---
Sections
1 | 2 | 3 | 4 | 5 | 6 | 7 | 8
Appendices
A | B | C | D | E | F | G | H | I | J | K | L | M | N | O | P | Q | R
Wellhead Protection Program Guidance Document Contents
Wyoming Department of Environmental Quality
---