Wind Protection
To Shelter Livestock
Permanent Wind Shelters
Here are some examples of wind protection shelters that we know of, along with their locations. Below, this large V-shaped shelter is west of Laramie, and the semicircular shelter is 30 km north of Medicine Bow, WY. The semicircle is 197 ft (60 km) in diameter, and the fence is 14 ft (4.3 m) high (Jairell and Tabler 1985). Wind is from the right side of each aerial photo.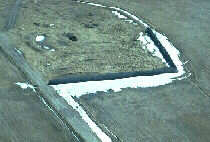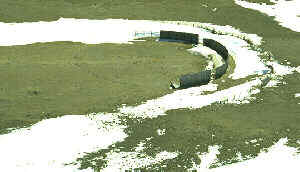 The 12-ft-high, V-shaped shelter shown below is north of Hanna, on the Miracle Mile Ranch (Ed and Juanita Richner, Hanna, WY 82327).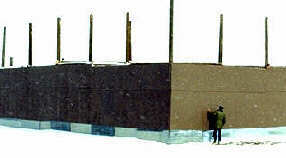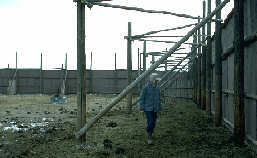 The semicircular shelter below is one of several built recently on the Buffalo Creek Ranch (Jack and Gini Chase, Leiter WY 82837).

---
To Wind Protection for Livestock
---