Wind-blown Snow as a Water Resource
Research History
The People
In the decade of the 1990's, water-related research at the Laramie Lab of the Rocky Mountain Research Station has been redirected toward instream flows and aquatic ecology.

These pages on blowing snow as a water resource report research accomplished mainly in the 1970's and 80's. This section presents the project people and cooperators who developed the information. From early on, the research project operated as two teams, a summer team and a winter team. The summer team focused on snow management to increase vegetation, while the winter team dealt with snow management to increase water. Ron Tabler led the project, and the winter team, while Dave Sturgis led the summer team. When Ron retired in 1985, Dave became project leader.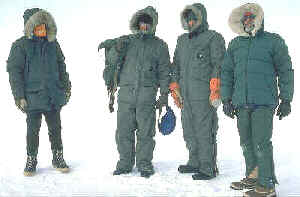 Blizzard Investigators--
---
To Research History
---