Wind Protection
To Prevent Soil Erosion
Stabilizing Mine Tailings
The photo shows part of a snow fence system the BlizWiz and Snowman designed to stabilize tailings. Although many of the principles are the same, designing systems to stabilize sand, soil, dust, coal, and other particulates, requires different parameters (barrier height, and spacing, for example) than controlling snowdrifts. Of course, the biggest difference is that snowdrifts melt, while drifts of sand and soil build year after year.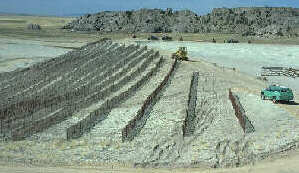 ---
To Prevent Soil Erosion
---