Wyoming
– NRCS
Report #3                      Monday Morning Snow Report                      Nov. 24th, 2014
Good morning everyone this is the 3rd Monday Snow Report for the 2014-2015 snow season.   Note: This is still early yet and these values will change dramatically.  Last year at this time the state median was 149% with a low of 90% and a high of 300%.  This year the state median is 79% with a low of 38% and a high of 133% of median.  See the table & map below for more information.  The map may differ slightly from the table depending upon how many stations were reporting at the time or date.
For those of you with INTERNET capability, this report and map showing SWE percentages for the state can be found at "http://www.wrds.uwyo.edu/wrds/nrcs/nrcs.html".   Go to  http://www.wcc.nrcs.usda.gov/normals/median_average.htm for median.
Figure 1 -- SNOW WATER EQUIVALENT AS PERCENT OF MEDIAN.  The following table shows the current, last year's ending weeks and 2012 equivalent (SWE) amounts for Wyoming basins.  Median is based on all reporting SNOTEL sites in the basin, not the snow courses.  The reference period for average comparison is 1981-2010.
| | | | | | | |
| --- | --- | --- | --- | --- | --- | --- |
| DRAINAGE BASIN | 11/17/2014 | 11/17/2014 | 11/10/2014 | 11/17/2013 | 11/17/2013 | |
| SNAKE RIVER | 95 | 76 | 38 | 128 | 137 | |
| MADISON | 87 | 70 | 71 | 129 | 131 | |
| YELLOWSTONE | 81 | 77 | 61 | 123 | 138 | |
| WIND RIVER | 73 | 62 | 26 | 126 | 135 | |
| BIGHORN BASIN | 54 | 46 | 16 | 161 | 170 | |
| SHOSHONE RIVER | 81 | 80 | 54 | 136 | 156 | |
| POWDER | 70 | 63 | 17 | 199 | 224 | |
| TONGUE | 44 | 41 | 17 | 119 | 131 | |
| BELLE FOURCHE | 133 | 200 | 100 | 300 | 467 | |
| CHEYENNE | 78 | 86 | 11 | 211 | 257 | |
| UPPER N. PLATTE | 78 | 67 | 43 | 126 | 132 | |
| SWEETWATER | 80 | 54 | 15 | 92 | 104 | |
| LOWER N. PLATTE | 38 | 23 | 12 | 164 | 180 | |
| LARAMIE | 79 | 80 | 51 | 131 | 152 | |
| S. PLATTE | 83 | 88 | 72 | 142 | 158 | |
| LITTLE SNAKE RIVER | 90 | 67 | 21 | 160 | 175 | |
| UPPER GREEN | 113 | 89 | 42 | 112 | 115 | |
| LOWER GREEN | 100 | 67 | 53 | 90 | 84 | |
| UPPER BEAR | 107 | 74 | 32 | 95 | 108 | |
| Weighted State Average | 79 | 70 | 34 | 149 | 170 | |
red = down                   blue = up                    green = even       * data is suspect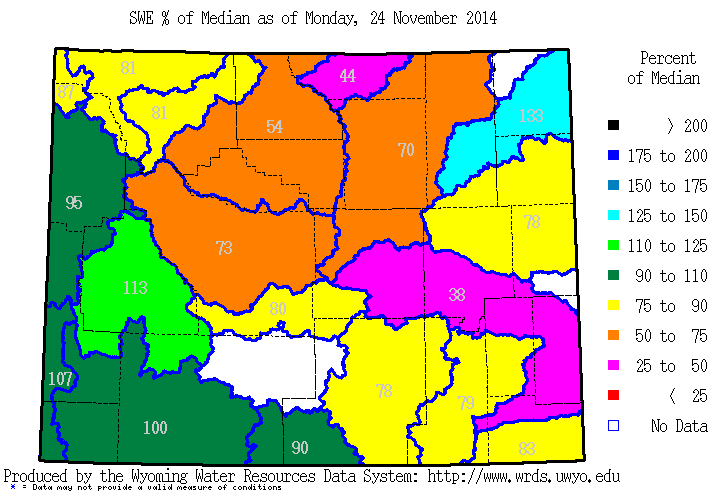 For more information, contact: Lee Hackleman or Ken Von Buettner (307) 233-6744, 6743
NRCS Snow Surveys   100 East B St., Room 3124  Casper, WY