Wyoming – NRCS
Report #25                                Monday Morning Snow Report                           Apr. 14th, 2014
This is the 25th Monday Snow Report for the 2014 Water Year.  Last year at this time the state median was 89% with a low of 67% and a high of 103% of median.  This year the state median is 142% with a low of 99% and a high of 206% of median.  See the table and map below for more information.  The map may differ slightly from the table depending on the stations reporting & date.
For those of you with INTERNET access, this report and map showing SWE percentages for the state can be found at: http://www.wrds.uwyo.edu/wrds/nrcs/nrcs.html.   Median info at:  http://www.wcc.nrcs.usda.gov/normals/median_average.htm
SNOW WATER EQUIVALENT (SWE) AS PERCENT OF MEDIAN - The following table shows the percent of median for 3 recent dates, and then the percent of median a year ago along with its preceding week in the last 2 columns.  SWE percent of medians are for Wyoming basins.   The median is based on reporting SNOTEL sites in a basin, and does not include manually measured snow courses.  Medians are computed using the period 1981 through 2010.
| | | | | | | |
| --- | --- | --- | --- | --- | --- | --- |
| DRAINAGE BASIN | 4/14/2014 | 4/7/2014 | 3/31/2014 | 4/14/2013 | 4/7/2013 | |
| SNAKE RIVER | 147 | 144 | 143 | 96 | 88 | |
| MADISON | 128 | 122 | 119 | 95 | 88 | |
| YELLOWSTONE | 154 | 154 | 152 | 97 | 88 | |
| WIND RIVER | 124 | 129 | 128 | 83 | 75 | |
| BIGHORN BASIN | 154 | 150 | 154 | 96 | 87 | |
| SHOSHONE RIVER | 152 | 155 | 152 | 92 | 86 | |
| POWDER | 157 | 159 | 159 | 103 | 92 | |
| TONGUE | 148 | 141 | 146 | 86 | 79 | |
| BELLE FOURCHE | 206 | 147 | 128 | 94 | 59 | |
| CHEYENNE | 138 | 140 | 129 | 96 | 68 | |
| UPPER N. PLATTE | 123 | 127 | 124 | 82 | 75 | |
| SWEETWATER | 99 | 116 | 114 | 67 | 59 | |
| LOWER N. PLATTE | 127 | 129 | 127 | 72 | 60 | |
| LARAMIE | 139 | 137 | 140 | 84 | 74 | |
| S. PLATTE | 152 | 142 | 143 | 90 | 76 | |
| LITTLE SNAKE RIVER | 121 | 126 | 122 | 76 | 67 | |
| UPPER GREEN | 160 | 159 | 157 | 85 | 76 | |
| LOWER GREEN | 133 | 130 | 126 | 95 | 80 | |
| UPPER BEAR | 110 | 117 | 117 | 83 | 70 | |
| Weighted State Average | 142 | 140 | 138 | 89 | 77 | |
red = down                   blue = up                    green = same       * data is suspect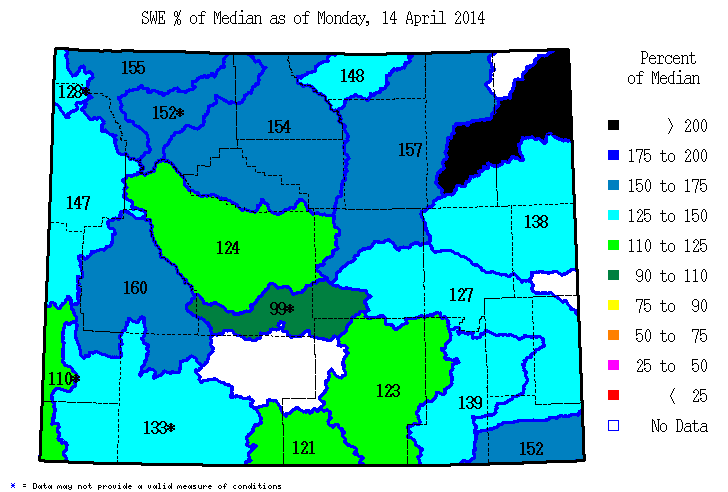 For more information, contact:   Lee Hackleman or Ken Von Buettner (307) 233-6744, 6743
NRCS Snow Surveys    100 East B St., Room 3124     Casper, WY 82601